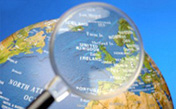 "The Adventures Directory UK - The Site Run By Enthusiasts For Enthusiasts."
How Green Are We?
Please note this page will soon be replaced by our fully fledged Green Manifesto!
We are far from perfect - but are doing our best by:
Working from our homes
Running a paperless office
Recycling all notes we make & mail we receive
Having no sales reps in cars coming to visit you
Utilising email & telephones instead
Using energy saving light bulbs in our offices
Encouraging people to find adventures in the UK rather than flying
Commuting locally on our bikes
Sharing vehicles when travelling to the activities we do
Donating 2% of our profits to UK environmental groups
Increasing this to 5% as soon as possible
We know we can do more & welcome any suggestions, or causes we can promote on the site.
Please visit the sites below to find out more about green issues
We are committed to supporting environmental causes and pledge 2 percent of profits will be annually donated to environmental causes in the UK. - [::COMING SOON:: View our Environmental Pledge Page].